City Road, Islington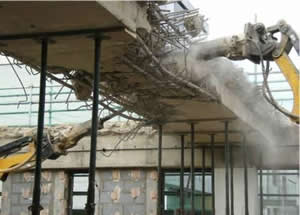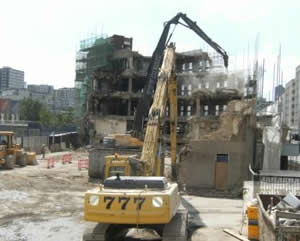 Project Summary
| | |
| --- | --- |
| Client: | Leslie Clark |
| Sector: | Commercial |
| Location: | Islington, London |
| QS: | Leslie Clark |
| Contract Value: | £0.73m |
| No. of Units: | N/A |
| No. of Floors: | 4 |
| Demo Period: | 36 Weeks |
| Completion Date: | August 2010 |
777 Demolition was contracted by Leslie Clark Construction Consultants to demolish a 4 storey office block with a roof top boiler room situated at City Road, Islington, London.
The Building was scaffolded on all elevations due to its location and close proximity to City Road, on of Islington's busiest arterial vehicular routes to the City of London as well as its proximity to adjacent properties. 777 Environmental conducted the removal of Asbestos within the building and the remaining soft strip was subsequently completed.
The underground car park of the block was retained as it contained the main EDF Substation for the local area and was to remain live and active throughout the demolition programme. It was supported and propped using a Maybey System designed by our Structural Engineer which enabled work by 360° excavation machines to continue unhindered.
This building was located in close proximity ( approx 300mm ) of a newly opened development (Groveworld Limited) which meant the first phase of the demolition needed to be executed by hand , Top Down.
Challenges
The proximity of active neighbour frontages, as well as a live local electrical substation provided considerable challenges to the execution of the project programme. Only after careful consideration by the site team, led by the Project and Operations Manager, was a coherent strategy arrived at which balanced the risks against programme benefits and facilitated the successful execution of the demolition without adverse effects on the local community. The project was completed on budget and within what was a tight programme.
How we made a difference
Manned access points to the site coupled with extensive use of scaffolding and fencing ensured the demolition was carried out in a controlled manner without risk to passing members of the public.
Water-based dust suppression was used throughout the project and the local community engaged and regularly updated with the operation.
777 deployed over 18 pieces of demolition machinery en-mass to clear the site of its antiquated structures.