Lewisham Hospital, Lewisham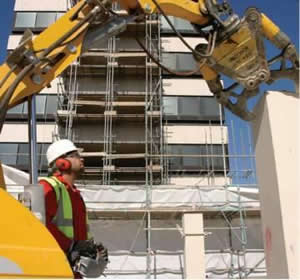 Project Summary
| | |
| --- | --- |
| Client: | Cyril Sweett / Lewisham NHS PCT |
| Sector: | Healthcare |
| Location: | Lewisham, London |
| QS: | EC Harris |
| Contract Value: | £5,600,000 |
| No. of Units: | 1000 |
| No. of Floors: | 8 |
| Demo Period: | 120 Weeks |
| Completion Date: | December 2009 |
The Lewisham Hospital Project, was taken on as a Design and Build process, consisting of the demolition of 7 ward blocks located within the live hospital and included major asbestos surveying and removal.
There was extensive surveying and asbestos removal around live services as well as a re-insulation process, undertaken within confined spaces and extreme temperatures resulting in complex working methods and site set up being achieved. The project also included duct strengthening works and civil engineering works – namely the installation of a new bespoke duct system, construction of a new 2 storey link and the construction of the major ground works, drainage and formation of car parks including associated M&E installations.
The project continues with the major refurbishment of a steel framed 3 storey building as a cladding and envelope lining package. The Lewisham Hospital Design and Build package resulted in partnerships being formed with organisations such as Cyril Sweett, PRC Engineering Ltd, Campbell Reith Consulting Engineers, Ansell and Bailey as well at DGT Structures.
In accordance with CDM regulations the site was handed over to the appointed Principal Contractor for the duration of the works, as such access to/works adjacent 'live' Asbestos enclosures were controlled. A dedicated Structural Engineer was appointed by 777 in order to carry out the demolition survey of the building.
Site specific details pertaining to the control measures, methods of work, PPE/RPE requirements were established. Once clearance certificates had been issued for the Asbestos removal the demolition phase of the works commenced. The disconnection of all services had been arranged and was executed by the Electrical Distribution Network Operator, the Water Authority and the Gas Network Operator. The demolition plan was developed in conjunction with the Principal Contractor and the Client Lewisham NHS PCT. The Site Waste Management Plan was produced identifying waste / recycling streams and corresponding facilities.
Challenges
The close proximity of a live construction site
The close proximity of local residence
The close proximity of other structures and a new build structure with common party walls
How we made a difference
The control measures associated with this particular project were significant.
Each block was scaffolded on elevations, wrapped in Monarflex re-inforced sheeting and carefully disassembled within a live hospital environment. Extensive planning and liaison with all stakeholders was essential and paramount throughout the works to safely orchestrate traffic and pedestrian management in order to ensure that materials were removed from site in a controlled manner.
The works around live services were undertaken within confined spaces thus resulting complex working methodologies and strictly controlled de-contamination areas, air monitoring and site facilities.